Discover the latest developments on the EUR-Lex website: 07/2020
We are pleased to communicate the latest main changes of EUR-Lex.
EUR-Lex contains a new section for European Central Bank (ECB) and ECB-related documents:
all ECB (and European Monetary Institute (EMI) – ECB predecessor) regulations, decisions, guidelines, opinions and recommendations, as published in the Official Journal
other ECB/EMI documents – opinions on draft national legislation, letters, memoranda of understanding and agreements.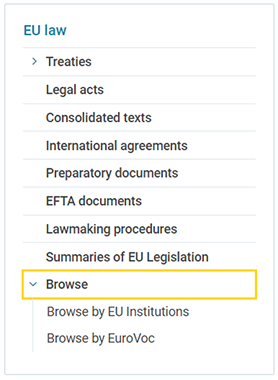 How do I access it?

From the home page, click Browse > Browse by EU Institutions > European Central Bank.

What can I use it for?
Quick search: use keywords or document numbers to search for ECB/EMI documents or ECB-related documents.
Advanced search: customised search for ECB/EMI documents or ECB-related documents.
Search box for ECB-related case law of the European Court of Justice (ECJ).
Document number search: use the document number to access an ECB/EMI document directly.
Find documents by subject matter, based on the ECB's areas of competence and taxonomy.
A European Banking Supervision (EBS) section redirects you to the results list, displaying ECB documents and ECJ case law in this area.
A recently published section lists ECB documents newly published on EUR-Lex (titles with active links).
Statistics on ECB legal acts – by topic, adopted act, non-binding act etc.
Contact us if you have any feedback or questions about these changes.