Browse by EU institutions
You can browse documents by the institutions that adopted them:
European Parliament
European Council
Council of the European Union
European Commission
Court of Justice of the European Union
European Central Bank
Court of Auditors
European Economic and Social Committee
European Committee of the Regions.
On the homepage, click Browse by EU institutions and then select an institution.
Depending on the institution, you can browse documents according to their types (e.g. regulations or judgments of the Court of Justice) and/or years.
The numbers in blue indicate how many documents are available for each category. Clicking a number brings you to a results page with all the documents matching your selection.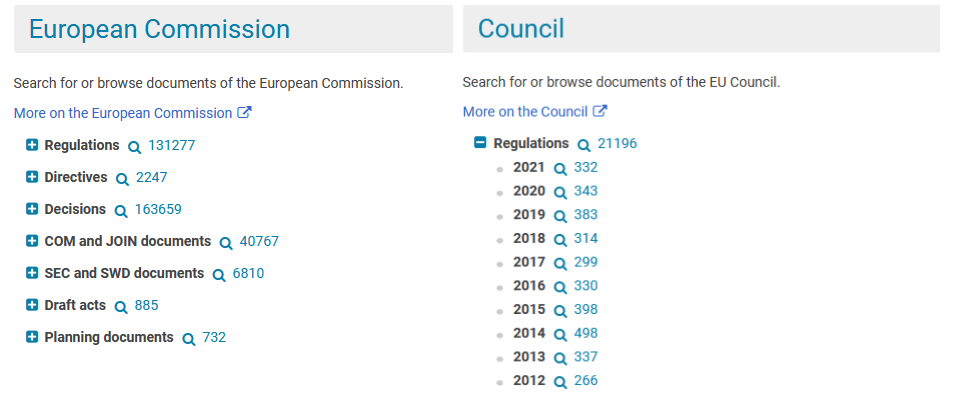 European Central Bank
The European Central Bank (ECB) has a specific section with customised search tools:
Quick search in ECB documents limits the results to the documents from the ECB or the European Monetary Institute and to relevant case-law.
Advanced search redirects you to an advanced search dedicated only to documents of this specific section.
Browse by topic lets you browse documents according to the classification scheme used by the ECB.
Find a document and Find a court case helps you find ECB documents and case-law relevant for the ECB according to year, number and type.
The Visual navigation box provides statistics on ECB documents. It redirects you to a page where you can browse ECB documents by year, type of legal act or subject. You can click the bars in the graphics, which then redirect you to related results pages.
Recently published provides quick access to recent ECB documents published on EUR-Lex.
The ECB section also contains pages dedicated to European banking supervision and ECB-related primary law.