ELI validator
The ELI validator is an online service that checks published ELI metadata against rules derived from the ELI ontology and produces a validation report. It helps ELI partners to assess the conformance of their data.
ELI/XML
ELI/XML is an encoding of ELI metadata in an XML schema (XSD). It can be used standalone or imported into other XML documents, typically in a metadata header. The ELI/XML schema is provided with a set of XML transformations to generate ELI in RDF/XML, RDFa header or HTML+RDFa. It is meant to facilitate the integration of ELI in XML-based document workflows.
ELI Best practices report
The ELI Best practices report will identify the best ways to implement ELI.
Technical ELI implementation guide
The Technical ELI implementation guide will answer any technical questions you have about implementing ELI.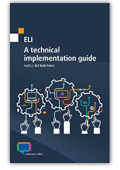 Glossary of technical terms
For more information, discover our glossary.
ELI success stories
Last update: 25/07/2017